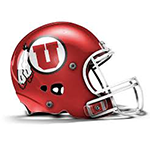 Today marks the two week anniversary of the opening of Ute Hub.  Things are settling down now.  Signups are a few per day now, not 250/day that we saw in first couple of days.  Membership is at a little over 700 now.
This past week I setup a Ute Hub Facebook and Ute Hub Twitter.  Give them a follow!
I've been working on some site improvements.  I started some PHP programming of the "retro" forum thread style.  Got the basics done.  I also redesigned the forum index page.  The out-of-the-box one sucked.
Forum activity has been great.  The forum is now at roughly 3500 posts since the site opened.  That's awesome.
In the two weeks the site has been in operation the Utes have crushed the Oregon Ducks 62-20 in Eugene, and ESPN Gameday has decided to come here.  Oh, and the Utes vaulted up to #5 in the college football rankings in the AP poll.  Of course, Ute Hub claims full credit for the Utes' success!
I installed the Tapatalk system here for those who like to use the Tapatalk app to read forums on their mobile devices.  The users who prefer that have been very excited.  I hope to continue the design of the site so that such a thing isn't necessary.  Until then, Tapatalk is alive and well.
Earlier today I put the first small google ad on the site.  There are some expenses involved for hosting, some apps (chat, like), and so on.  I'd like to see for now the site at least attempting to cover its own costs.  If not, at least contribute a bit to it so I'm not totally out of pocket.  Not to worry though.  The site is registered for three years and there's no risk of "not paying the bills" and having the site go down or anything like that.  But I'd like to see it pull its own weight.
This past week was a bye week.  Coming up is the Cal game with ESPN in town.  I'm working to arrange a Ute Hub member meetup at the tailgate.
I'm also thinking of whipping together some Ute Hub cards to hand out at the tailgate and the game.
Looking forward to week #3!
GO UTES!